Alfred Watzl
1999 | Civil and Construction Engineering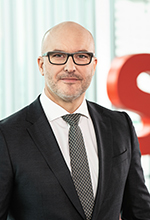 Alfred Watzl was the very first civil engineering graduate of DIT in 1999. He assures all students of the university that they can look optimistically into the future and that they will be in above-average demand on the job market.
Career Development
In the 2nd practical semester, I was employed by STRABAG International GmbH in Poland as a construction phase manager (March-July 1998 in Bytom near Katowice, construction of a shopping centre for the German Metro Group) and already during the practical semester, I received a job offer as a construction manager from the then STRABAG boss in Poland, under the condition that I would be able to present a completed civil engineering degree by October 1999 at the latest. This was my motivation and pressure at the same time to complete my studies at DIT in eight semesters, including my diploma thesis (among other things, this is one of the reasons why I was probably the very first civil engineering graduate).
My first job was as a construction manager at STRABAG for the Real construction project (Metro Group) in Lublin. Then I became the project manager of the Metro Shopping Centre in Krakow, a prestigious project with a contract value of €26 million. Very independent work was necessary here. Building up a team, cooperating with the customer (including the Metro management) and, last but not least, intercultural cooperation (German, Austrian, Polish) provided me with important management skills in the technical, but also in the commercial and personnel areas at an early stage. During the team management, e.g. of an ECE shopping centre project with a contract value of €50 million, the STRABAG Management Board in Vienna "took notice" of me and I became divisional manager for large and special projects throughout Poland.
In January 2004 he was appointed to the national board. As technical director, I was responsible for STRABAG's structural and civil engineering in Poland, the development of a sustainable and nationwide organisation from project business to area business, the establishment of branch offices, etc. From January 2013 I was responsible as technical division manager for all operative business areas in Poland (traffic route construction, structural and civil engineering, bridge construction, railway construction, etc.) with an annual output volume of approx. € 900 million and approx. 5,000 employees.
Since January 2019, I have been a member of the Executive Board of the Group holding company STRABAG SE, responsible for the North + West segment (Germany, Poland, Scandinavia, Benelux) with an annual output volume of approx. € 8.0 billion and approx. 25,000 employees. 75,000 employees of the STRABAG SE Group generate an output of approximately €16.3 billion, making STRABAG the fifth largest construction company in Europe and the fourteenth largest construction company in the world.
Reminiscing allowed: remember your student days
As the first year of the civil engineering course, we had to work hard on lots of things ourselves together with the professors - there was no "blueprint" for either the professors or the students. This certainly entailed a lot of extra work, but the big advantage was that we had to get very involved and take responsibility. As a result, many students have also built up a close relationship with each other and with the professors - there was a kind of pioneering atmosphere overall. During this time, I also founded the "Verein der Deggendorfer Bauingenieure e.V.- VD-Bau" with fellow students (with formal support from Prof. Scherer) and was the first founding chairman.
In the middle/end of the 1990s Deggendorf was a very popular meeting place for young people within a radius of 100 km, i.e. the range of pubs, parties etc. could easily fill a 7-day week - which sometimes posed great challenges with regard to the compulsory attendance of some courses - but the development of soft skills during the studies was also important. So this time was not wasted.
Especially at that time, we also met with professors after the lectures, e.g. at the Christmas market - as I said, we had to "work" a lot together.
What advice would you give to today's students?
... do not to rely solely and exclusively on pure expertise!
In the age of digitalisation and increasing anonymity, social skills are becoming even more important. A technically sound education was and remains a basic requirement, but: As our processes on construction sites and processes close to construction sites become more and more complicated, the ability to work in a team is essential. The personal communication skills of all those involved play a major role here. Unfortunately, in the age of digitalisation, these skills are withering away because electronic communication dominates. Personal contact and discourse is avoided because it is perhaps more "strenuous"?!
Despite progressive digitalisation, people are still at the centre of the building industry, i.e. we deal with people every day: colleagues, superiors, customers, subcontractors, etc. Commitment, assumption of responsibility, respect, innovativeness, empathy, etc. are necessary values to enable a company and our society to operate successfully in the long term. But these values must be lived by all people in an organisation.
By the way, values cannot be replaced by machines or artificial intelligence!
For this reason, I can only encourage students to become more involved and take on responsibility during their studies, such as in student associations. The famous "thinking outside the box" is more topical than ever before. Please find out more about the challenges that digital transformation poses for employees and managers. The carousel of change is spinning faster and faster.
But this allows you to look to the future with great optimism: Civil engineers with a sound education, a "decent" portion of the above-mentioned values and social competence are and will continue to be in above-average demand on the job market.
But first of all: Enjoy your studies - especially the socialising!
Good luck with it!
Yours,
Alfred Watzl