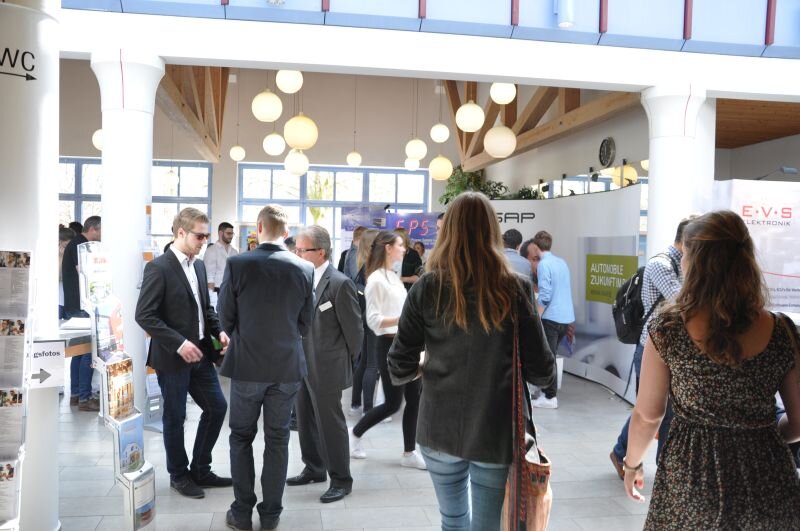 firstcontact 2021
Company networking fair firstcontact taking place virtually for the first time
27.1.2021 | THD-Pressestelle
Job fairs are important dates for students and HR managers to network in their search for jobs or junior staff. In Lower Bavaria, "firstcontact" will take place virtually for the first time in April. Companies can still secure a stand space until the end of January. The organised of the fair is the student association First Contact e.V. in cooperation with the Career Service of the Deggendorf Institute of Technology (DIT).
As usual, the DIT organisation wants to present the fair in a professional manner. The organisational team now sees an opportunity to inspire companies that have not been able to come to Deggendorf to participate. The virtual version should therefore be in no way inferior to the original. A trade fair software and a get-to-know-you app will support this. A new feature is that exhibitors and visitors have the opportunity to get in touch in advance. They can then arrange to meet on the day of the fair.
The "firstcontact" 2021 will take place online on 13 April 2021. It is aimed at all students, especially if they are looking for jobs for an internship or their Bachelor's or Master's thesis, as well as all prospective graduates. Companies that would like to meet and support the young talents can contact the organisation via e-mail info@firstcontact-ev.de by 15 February 2021 to reserve a stand.
Bild (DIT): One of the most successful company contact fairs in Lower Bavaria is taking place virtually this year: firstcontact, organised by the Deggendorf Institute of Technology.