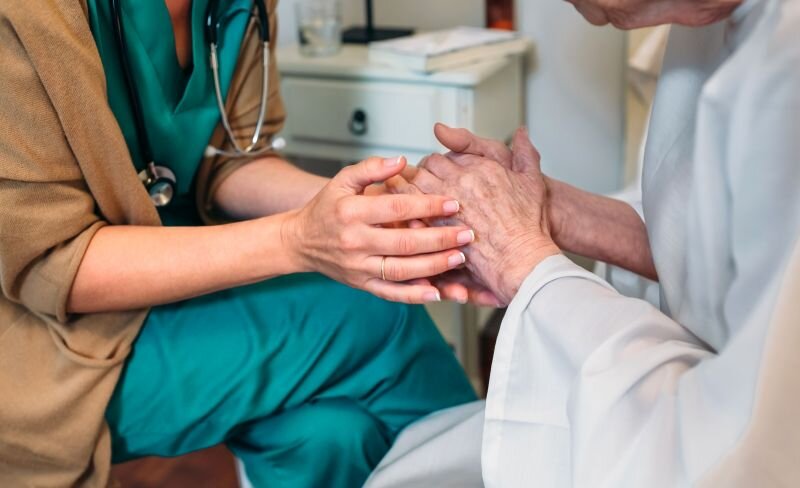 Nursing Day on 18 January 2021
"Wie WÜRDEst du pflegen?" (How would you care? - focus on dignity)
17.12.2020 | THD-Pressestelle
In public, the image of the nursing profession is mainly shaped by two attributes: exhausting, because there are too few nurses and also poorly paid. However, there is much more to the interaction between patients and nursing staff. Everyday life can be very moving. For example, in moments when caregivers are the ones who preserve the dignity of a person in need of help. Students of the Deggendorf Institute of Technology (DIT) will address how dignified care can be in everyday life and what significance it has at the third Nursing Day of the Faculty of Health Sciences. Interested parties are cordially invited to the free event in January.
Students on the nursing course hear a lot about the topic of dignity in their lectures. The topic came up especially in connection with "family and community care". For example, how care can be provided in the community or at home in a modern way. Therefore, it was their concern to organise the next care day under the motto "How would you care - with focus on dignity". Seven speakers have been found for 18 January 2021. The first Mayor of the municipality of Furth will give an outlook on how the municipality cares for its elderly citizens and those in need of care and what else is planned for the future. Prof Dr Bernd Reuschenbach will present the topic of Community Health Nursing. "Die leere Wiege" by Birgit and Roman Seidler, Christine Nikl will tell about end-of-life care for babies and parents. From intensive care helping hand, participants will hear more about dignified intensive care at home. There will also be more about the projects DeinHaus 4.0 in Lower Bavaria and 9XOfra. Both deal with the self-determined life of older people and people in need of care in a study. DeinHaus 4.0 is in the preparation phase, 9XOfra has already conducted a similar study and will present results.
The Care Professionals Day will take place from 9 am to 1 pm as a virtual event and is aimed at anyone interested in the topic of dignified care. This can be students or carers, but also relatives who care for their family members in need of care. Since the number of places in the audience is limited, prior registration is required. Contact is student Wiktoria Juszko-Bebawy via e-mail at: Wiktoria.Juszko-Bebawy@stud.th-deg.de.
Bild (© 2017 David Pereiras): The third care day is about dignity in care.