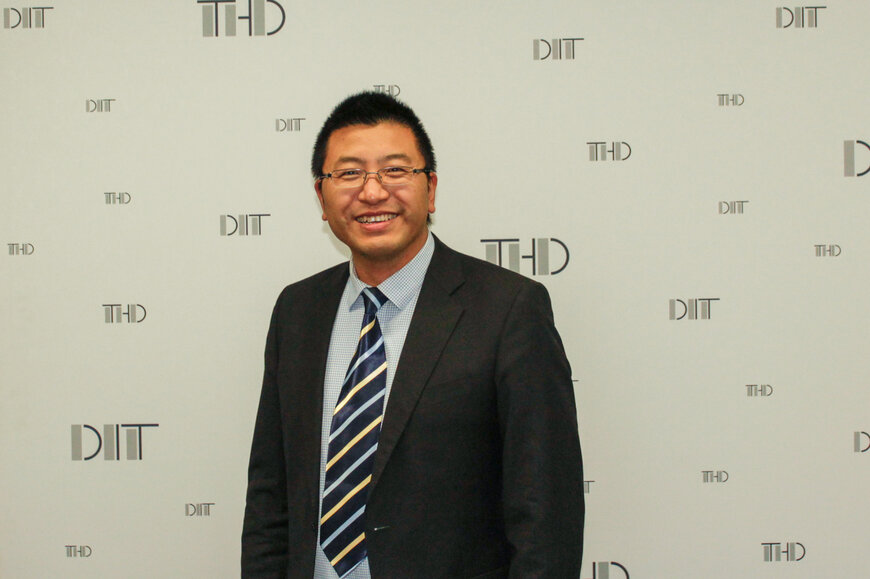 New Professor for Data Analytics in Health Economy
Turning his hobby into a profession: New Professor for Data Analytics in Health Economy
11.12.2020 | THD-Pressestelle
The Department of Health Informatics at the European Campus Rottal-Inn (ECRI) welcomes Mouzhi Ge as new professor for "Data Analytics in Health Economy". His special fields Artificial Intelligence and Data Science are not only his work, but also his hobby.
After stays in Dublin, Brno, Dortmund and Munich Professor Ge is looking forward to working for the Deggendorf Institute of Technology (DIT) at its international ECRI campus. There he pursues his hobby now on a daily basis as it turned into his profession. Applying as a professor at DIT has been the best decision of his professional life so far. The diversity, internationality and openmindedness of the university fascinates the new professor of "Data Analytics in Health Economy" the most about his new employer. Working at DIT's international ECRI campus is therefore the perfect work environment for Professor Ge.
In his research, Prof. Ge deals with data-driven predictions and applications in health economics. His most influential research result to date shows that his work is not only relevant in research, where he has published more than 100 international publications, but is also important for ordinary citizens. He developed a health-conscious food recommendation system that can contribute to a healthier life. This recommendation system has even been presented at the 2015 World Expo in Milan. It is precisely these experiences and the fact that he can make a difference with his research that drives the new professor. In the Ge family the spirit of research is omnipresent. It is therefore not surprising that the biggest inspiration to Professor Mouzhi Ge is his sister, Professor Wei Ge of Oxford University. The siblings' goal is to continue their research until they can explain their research topics to their grandmother in the best and easiest way possible.
Professor Mouzhi Ge always has an open ear for his students and to awaken their interest in the field is a top priority for him. He particularly appreciates the discussion and interaction with students in his work as a professor. Seeing his students work all over the world after graduation is what he describes as the greatest success. Another goal at DIT is to build up such a good reputation through his work that the name "Professor Dr. Mouzhi Ge" immediately falls as soon as the topic "Data Analytics in Health Economy" is discussed. With his passion for his work and research, he should easily succeed.
If he is not pursuing his biggest hobby, work, then you will find Professor Ge either "live in action" on the football field or watching football. When his neighbors are not at home, he likes to play the cajon. This way he gets his head free for new research topics.
Bild (ECRI/THD): Professor Ge is the new specialist for Artificial Intelligence and Data Science at the European Campus