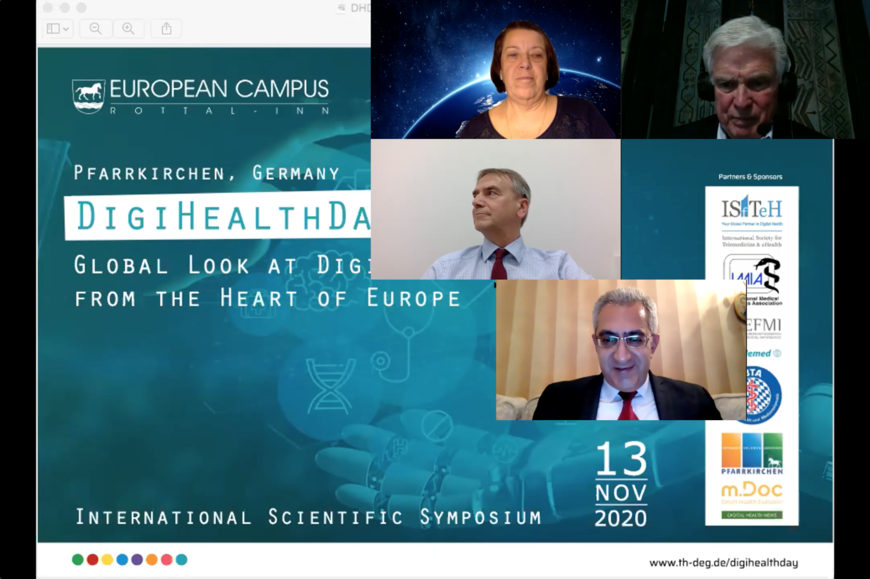 Successful International Scientific Symposium DigiHealthDay-2020
Successful International Scientific Symposium DigiHealthDay-2020
2.12.2020 | THD-Pressestelle
The European Campus Rottal-Inn (ECRI), faculty of Deggendorf Institute of Technology (DIT), held its first edition of the International Scientific Symposium DigiHealthDay (DHD) on November 13th. With 348 registered attendees from 59 countries around the world, the event has been a huge success.
The DHD invited all Digital Health enthusiasts to learn more about the global Digital Health landscape and to discuss relevant topics among the participants. The DHD featured nine keynote speakers from five countries, all highly valued experts in the field of Digital Health. The plenary sessions featured talks on topics such as the transformation of health and social care through autonomous and intelligent systems, mobile health, the importance of building digital health knowledge and skillset, the citizens participation in their healthcare and the challenges for nurses, the business model aspects of Digital Health, applied publich health informatics, the international digital transformation of healthcare, artificial intelligence in medicine and healthcare, and much more. During the scientific sessions the lecturers presented different papers on topics on telemedicine and related issues. The organizers also introduced the Consortium of Educational Insitutions in Digital Health (CONEDIG), an initive under the umbrella of the International Society for Telemedicine and eHealth (ISfTeH), to create a set of educational programs for digital health and the evaluation of existing programs in digital health.
Prior to the DHD there had also been seven pre-meeting virtual workshops from April to July with a total of 28 sessions. These workshops had been attended by 141 participants from 37 countries and led to the main event, the DigiHealthDay-2020 on November 13th. The DigiHealth event series was organized under the leadership of Prof. Dr. Georgi Chaltikyan, Professor of Digital Health and Cross-Border and International Healthcare, and director of the study program Master of Medical Informatics (MMI) at DIT-ECRI. The successful events have been the starting point for another edition of the DHD wich is planned to take place next year.
The DigiHealthDay-2020 was hosted by ECRI in cooperation with our partners and sponsors: International Society for Telemedicine & eHealth (ISfTeH), International Medical Informatics Association (IMIA), European Federation for Medical Informatics (EFMI), DGTelemed, Bayerische Telemedallianz (BTA), the City of Pfarrkirchen, m.Doc, and Digital Health News portal.
Bild (ECRI/THD): The DigiHealthDay-2020 took place online and was a huge success