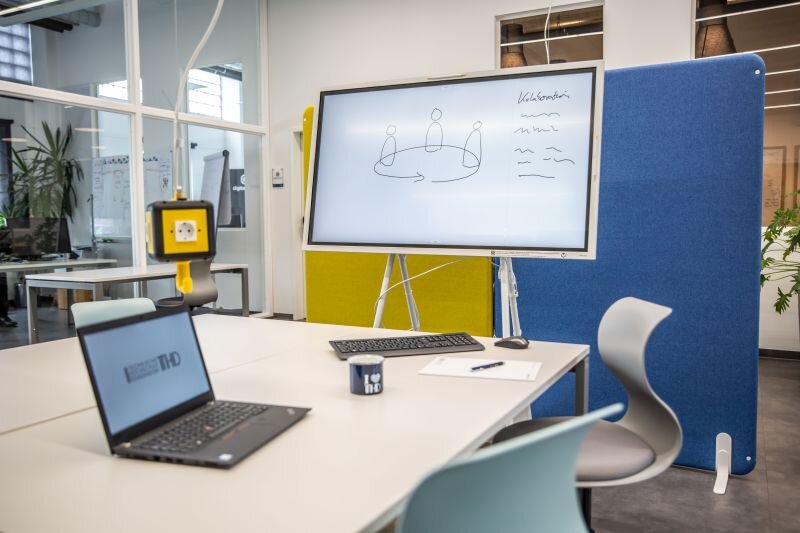 Free Co-Working Space
Your temporary workplace: Free co-working space at DIT
7.7.2021 | DIT Public Relations
Five new and well-equipped co-working spaces have recently opened in Deggendorf's ITC1. The special feature: the rooms can be rented free of charge until the end of 2022. The Deggendorf Institute of Technology (DIT) is making this offer as part of the Digitalisation in Dialogue" project. The co-working space is ideally suited as a home office, for freelancers, commuters or start-ups, for example.
The rooms can be rented as needed through the university. The space concept at ITC1 offers everything that makes co-working hearts beat faster. Anyone who wants to use one of the workstations only needs a laptop, mobile phone, pen and paper. Everything from desk chairs and Wi-Fi to lockers for personal belongings and a coffee kitchen is available. With additional video conferencing and meeting corners as well as creative spaces, the result is a comfortable working environment. Here, very different professions and personalities come together. Anyone who would like to find out more about the DIT co-working space can do so at a virtual information event on 21 July at 4pm. Registration is possible by e-mailing coworking@th-deg.de. Information can also be found online at https://www.th-deg.de/en/business/coworking.
Bild (DIT): State-of-the-art working atmosphere in the new co-working space at ITC1 in Deggendorf.