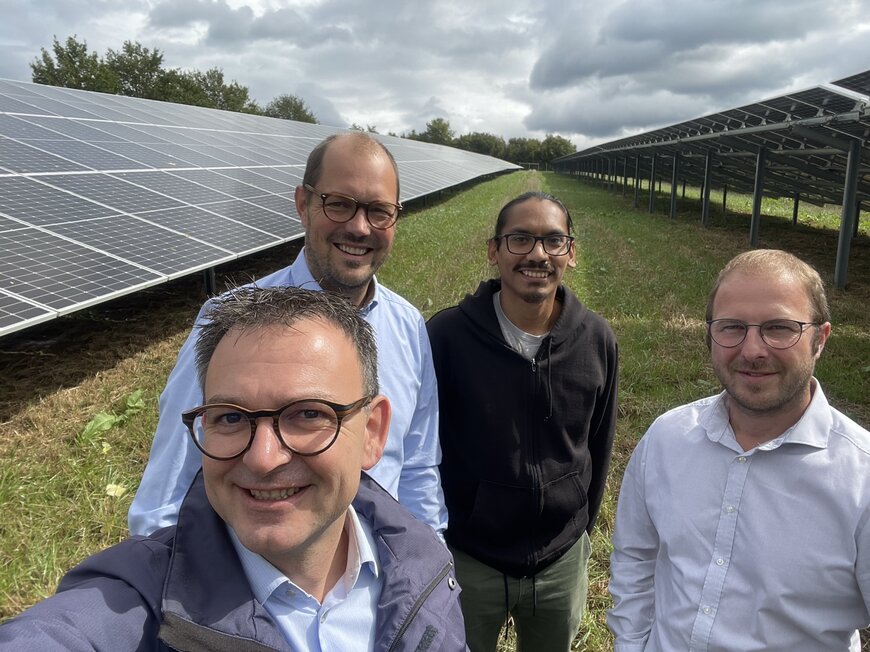 Making solar energy more usable
Making solar energy more usable
4.10.2022 | DIT Public Relations
Against the backdrop of the energy crisis, renewable energies are to be increasingly used in the future. Once central technology is photovoltaics (PV), which generates electricity from the sun's rays. As part of a Master's thesis, the European Campus Rottal-Inn (ECRI) is looking at how solar energy can be used even more efficiently in the future.
There are already several PV parks in the district of Rottal-Inn. The plant in Gangkofen is equipped with innovative bifacial modules. These are special because they also produce electricity via the rear side and are even more efficient than conventional modules. In his Master's thesis, ECRI student Irineu Auccappure, supervised by Prof. Dr.-Ing. Matthias Huber, is investigating the extent to which the use of radiation on the back of bifacial modules increases the use. For that he is examining factors such as the installation and orientation of the modules in the Gangkofen PV park.
Since realistic measurement and evaluation is not possible in the laboratory, Irineu Auccappure carried out the practical part of his Master's thesis on site at the PV park. In an experiment, he covered the backs of selected modules with cardboard supported by wooden sticks and compared the energy production. The data collected in this way can be used to find out how the bifacial modules are set up and aligned to make the best use of the solar energy. One hundred percent of the materials used for the project are recycled materials.
Sustainability is the main theme for the operators of the PV plant. Thus, the park with a total output of 4,500 kWp not only produces electricity for an average of about 2,500 households, but was also planned and built according to the latest standards by sunbird energy GmbH. In the spirit of sustainability, the management of the PV park, FinRo®, always tries to leave a strip of green per row during each mowing so that there is enough food for the insects.
During the visit to the PV park, Prof. Huber from ECRI, Jan Kiermeier, Managing Director of sunbird energy GmbH and Harald Eder from FinRo® agreed to continue and expand the cooperation between the campus and the operators of the plant.
Bild (ECRI / DIT): Visiting the PV park trial together: Harald Eder from FinRo®, Prof. Dr. Matthias Huber, student Irineu Auccapure and Jan Kiermeier, Managing Director of sunbird energy (from left to right).