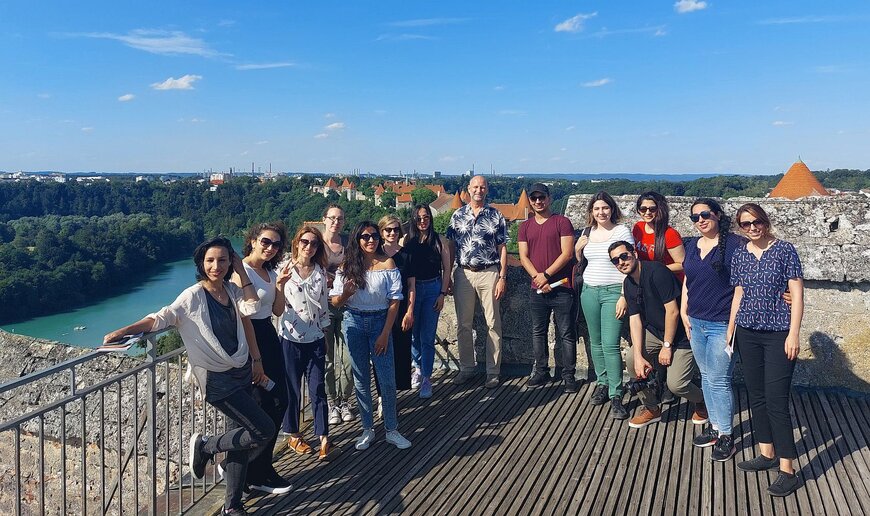 From medieval to ultra-modern architecture
Everything from medieval to ultra-modern architecture
22.7.2022 | DIT Public Relations
On 15 July, students from the Healthy and Sustainable Buildings course at the European Campus Rottal-Inn (ECRI) went on an excursion together with course director Prof. Dr. Michael Laar. They visited the company Schlagman Poroton and the town of Burghausen.
The group started at the Schlagman Poroton company in Zeilarn. The students learned about various building materials, including the world's best pure mineral highly insulating brick. The know-how and the range of products, as well as the ultra-modern production facilities, were therefore particularly interesting for the students at Schlagman Poroton. The company then invited the students to lunch together in Marktl.
Afterwards, the group went on to Burghausen. They immersed themselves in medieval architecture at the longest castle in the world. In addition to the buildings of the castle, the students also visited the museum with Renaissance paintings of the Bavarian State Gallery. They discussed, among other things, the development of perspectives in paintings since the Renaissance until today.
Urban planning also plays a major role for the students of the Healthy and Sustainable Buildings programme. Therefore, the group explored the historic city centre and the Grüben as an example of a well achieved balance between preservation of the historic substance and modern use at the same time. The adjacent Wöhrsee as an inner-city and sustainable leisure option was also on the agenda. During the excursion, the international students were not only interested in the technical topics. They also absorbed the information about the development of Bavarian culture. The knowledge about the historical development as well as the modern and innovative building materials form an important basis for the students' future work in Bavarian and German companies.
Bild (DIT / ECRI): The students with Prof. Dr. Michael Laar (centre) during the excursion in Burghausen.