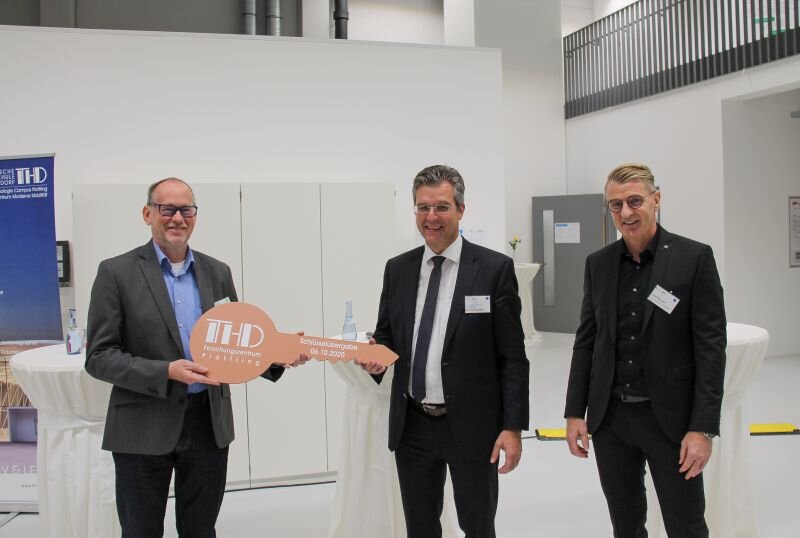 Technology Campus Opening
Modern mobility starts in Plattling
6.10.2020 | THD-Pressestelle
On 6 October the Research Centre for Modern Mobility (MoMo) opened in Plattling. It is the tenth Technology and Research Campus (TC) of the Deggendorf Institute of Technology (DIT). Hans Schmalhofer, First Mayor of the town of Plattling, DIT President Prof Dr Peter Sperber and Science Minister Bernd Sibler welcomed the number of guests, which was limited to 40 due to the pandemic, and highlighted the great development potential for the town of Plattling associated with the MoMo. The TC will be working with an interdisciplinary approach, which includes and combines the fields of energy storage, power electronics, autonomous mobility and robotics as well as robot-based computer tomography.
Even though the establishment of the Technology Transfer Centre for Plattling represents a considerable investment, it is a right and important step for the development of the town, said Mayor Schmalhofer and added, not without pride: "Plattling will become a research location for a university – with a key technology of the future! Indeed, the constellation of a thematically very well coordinated research community together with the scientific competences at DIT is a unique selling point in the field of modern mobility. "This", according to the operational director of the MoMo, graduate engineer Katrin Juds, "should be a good basis for further research alliances which can additionally strengthen the region economically." Minister of State Sibler also praised DIT and its role as an important East Bavarian piece in the Bavarian High Tech Agenda. Sibler stressed: "Thinking progress from the region – that is the formula behind the new research centre 'Modern Mobility'. With its long tradition as a railway town and transport hub, Plattling is an excellent location for working on the mobility of tomorrow. Our universities of applied sciences and technical universities are strong drivers of innovation. It is from here that the future is shaped – for the region, for Lower Bavaria and for Bavaria".
The close networking with the Deggendorf Campus ensures a broad spectrum of research and development capacities, as with all TCs of DIT. This includes contract research, funded projects, bachelor and master theses or seminars and workshops. At the scientific level, the MoMo is closely linked to its mothership in Deggendorf, for example, in the areas of electromobility, fleet management, virtualisation of resources and services and intelligent energy information network (smart grid). "Promising options for regional structural support in all areas of mobility are associated with the MoMo", confirmed DIT President Sperber. Otto Kreutzer, head of the Power Electronics Research Group, also sees an ideal composition to enable area-wide climate-neutral mobility one day, hopefully not too far away. "An innovation driver such as the MoMo will help to push the technological status of regional companies forward," says Kreutzer.
Intelligent mobile robotics will also play an important role at TC Plattling. In this context, division manager Prof Dr-Ing Berthold Bäuml would like to "conduct research at a top international level." This will be done in close cooperation with the Institute of Robotics of the German Aerospace Centre and the Technical University of Munich. "Through close cooperation with the local companies, we will transfer the research results into concrete applications," says the professor. The current topics range from the autonomous vertically-launching VTOL drone for the early detection of forest fires and bark beetles, the intelligent robotic assistant in production to the humanoid service robot with arms and hands as a personal assistant for older people.
Computer tomography is a powerful imaging technique for the examination of a wide variety of materials, components and products. In the field of e-mobility, companies are breaking new ground in many respects. Prof Dr-Ing Jochen Hiller, research group leader of robot-based computed tomography, sees a great need for the use of the most modern measuring and testing methods to comply with safety and quality standards. "Due to the extraordinary future viability of 3D imaging in combination with robotics, we see the MoMo as a nucleus for a further campus. But also as an opportunity for company spin-offs," says Hiller. He added that there is definitely a need for more companies in Germany dealing with imaging processes and intelligent robotics.
The ecumenical blessing of the building was performed by Dean Josef K Geismar and Pastor Karolin Gerleigner. Afterwards, architect Robert Brunner symbolically presented the key to the laboratory hall to the First Mayor of the town of Plattling. He finally places it in the hands of the DIT president as the actual user of the building. The MoMo was thus opened and went straight into working mode. With a guided tour of the research rooms and laboratories for the guests.
Learn more about the MoMo: https://www.th-deg.de/en/tc-plattling.
Info Box Technology Development at MoMo
Chemistry and technology of electrochemical energy storage (modern energy storage systems for mobile applications, grid stabilisation through storage solutions, improved battery storage systems, innovative energy storage systems, hybrid solutions for Deutsche Bahn) – Prof Dr techn Michael Sternad
Power electronics (high-performance charging stations in combination with storage solutions, DC/DC conversion in fuel cell systems, smart grid, power electronics in the environment of rail vehicles, etc) – Prof Dr Ing Otto Kreutzer
Solutions for autonomous driving (sensors, algorithms, networking in the vehicle, metrological function validation, … all topics around autonomous systems and autonomous driving) – Prof Thomas Limbrunner
Info Box Intelligent Autonomous Robotics and Computer-Aided Measurement Technology at MoMo
Robot-based computed tomography (3D digitalisation of large objects up to complete vehicles with the help of a robot-based digitalisation cell based on X-ray computed tomography) – Prof Dr Ing Jochen Hiller
Autonomous Intelligent Robots – Joint Research lab with DLR Institute of Robotics (Learning robots that independently perform complex tasks: from humanoid assistance robots for home, production or agriculture to autonomous exploration drones) – Prof Dr Ing Berthold Bäuml
Bild (DIT): The key to the MoMo in Plattling has been handed over: DIT president Prof Dr Peter Sperber (left), Plattling's first Mayor Hans Schmalhofer (centre) and architect Robert Brunner.