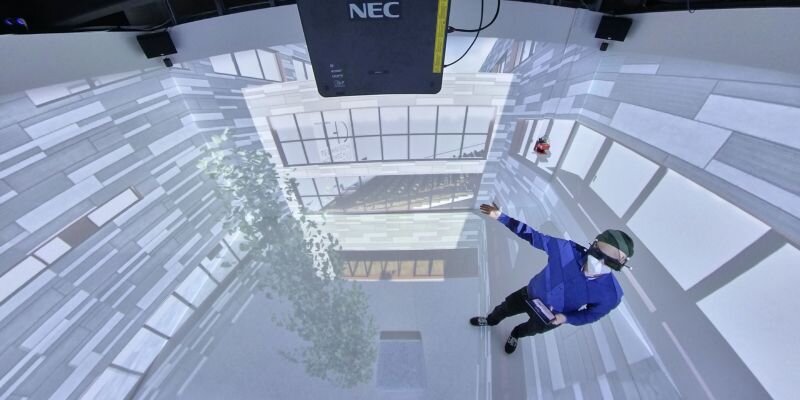 DigiCamp Virtual Reality
Virtual Reality in Construction - The future has already started a long time ago
16.3.2021 | THD-Pressestelle
The Department of Digitalisation and Innovative Teaching at the Deggendorf Institute of Technology (DIT) is organising the next DigiCamp on 24 March from 4 pm. This time, the series of events on digitalisation will focus on the topic of "Virtual Reality in Construction - 3D, BIM & more" and is aimed at civil engineers, architects, engineering firms, interested companies and university members. Under the leadership of Prof Dr-Ing Gerd Maurer, the faculties of Civil and Environmental Engineering and Electrical Engineering and Media Technology are participating in the event.
Digitalisation in companies in the construction industry brings a whole range of advantages to businesses. In the construction industry, the planning method Building Information Modelling (BIM) in particular has extraordinarily great potential. While architects used to work on the classic drawing board, most of them now use modern CAD systems to create their designs on the computer. Plans of this kind can not only be submitted to authorities and experts more easily, but also enable applications in the field of virtual reality. The construction industry can make use of these advantages, for example, when it comes to showing clients the finished objects in advance and thus planning together and also preventing misunderstanding. With the help of virtual reality and computer-generated 3D images, builders can walk through their own house as if they were standing directly in the room, even before construction begins. The virtual DigiCamp will demonstrate the possibilities that virtual reality can bring to construction. A live demonstration of current 3D projects at DIT in the "Laboratory for New Forms of Reality", led by Prof Dr Stephan Windischmann, is planned, as well as several short lectures by renowned experts from business and science, and a virtual panel discussion to exchange opinions. The technical possibilities on the construction side and on the media side will be discussed in detail.
The complete programme with an introduction of the participants and the registration form for the event can be found on the DIT homepage at https://www.th-deg.de/en/business/digitalisation-in-dialogue. Participation is free of charge, access data will be sent via e-mail after registration.
Bild (DIT): On 24 March, the Deggendorf Institute of Technology will address the topic of "Virtual Reality in Construction". In the laboratory for new forms of reality (360-degree room), a variety of 3D solutions can be displayed.