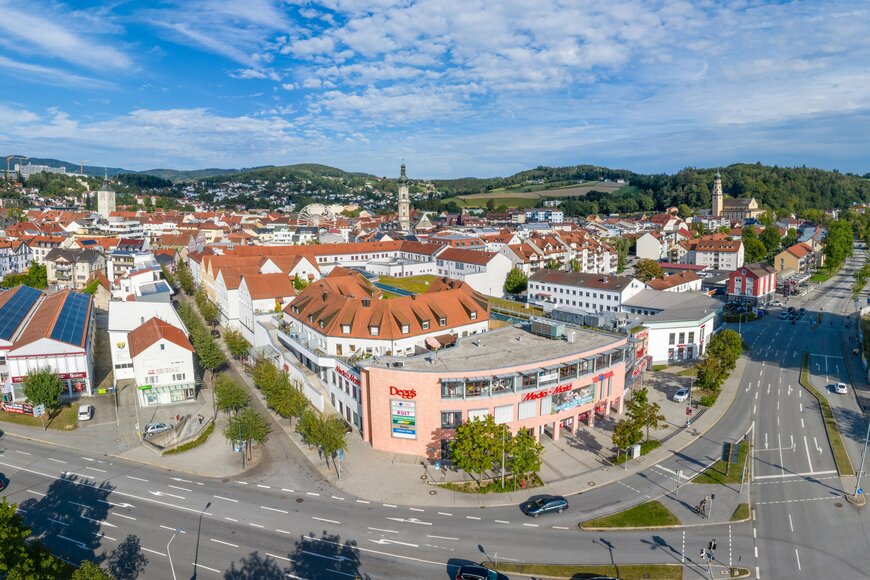 New Home
1,275 square metres of research and teaching in DEGG'S
23.2.2021 | THD-Pressestelle
A small walk across the road, but a big step for the new Centre for Digitalisation and Innovation. The Deggendorf Institute of Technology (DIT) is moving into almost 1,300 square metres in DEGG'S. Already on 9 February, the rental spaces on the first and second floors of DEGG'S were officially handed over to the Faculty of Applied Computer Science and to Immobilien Freistaat Bayern (IMBY).
In the summer of 2018, the Bavarian state government decided to establish a centre of digitalistion technologies at DIT: For around 1,000 new students and with corresponding teaching staff. But where to put all these people? Free offices, laboratories and capacities for teaching are already scarce at the main campus of DIT. Despite the large new building complex at the Danube riverside. DIT continues to grow as planned and they all have to go somewhere, the students, the teaching staff and researchers. "With DEGG'S we have been able to win an excellent partner for our expansion plans," DIT President Prof Dr Peter Sperber is certain. Even though the university will of course be further decentralised in terms of space. But the DEGG'S is within easy reach of the campus. "And," says Sperber, "we are symbolically building a bridge to the city. Teaching and research, especially at a university of applied sciences, doesn't belong in the ivory tower, after all." The assimilation of science into society is definitely desired. This is also achieved by living and working next door to each other. The still relatively young Faculty of Applied Computer Science with courses in Artificial Intelligence, Cyber Security or Quantum Computing will be on the move in DEGG'S in future. The Faculty of Applied Health Sciences is also at home in DEGG'S with its sports sciences. They have been since autumn 2014.
Sabine Zimmerer from Kintyre Management GmbH is also highly satisfied with the long-term partnership. The manager is pleased that DEGG'S is now home to the university on such a large scale. The conversion of the former practice areas in DEGG'S also involved mainly companies from Lower Bavaria, with architect Albert Emberger from the EIS-Plan office and the companies baierl + demmelhuber Innenausbau GmbH, Freise Elektrotechnik and GEIGER Gebäudemanagement & Technik GmbH. "That is also important to us," explains Zimmerer. The now freshly converted partial areas are exactly what DIT was looking for, he says. A perfect match for both partners. The lease will run for ten years. DIT's growth can continue.
Bild (Marcus Henschel/foto-von-oben): Aerial view of the DEGG'S from summer 2020.